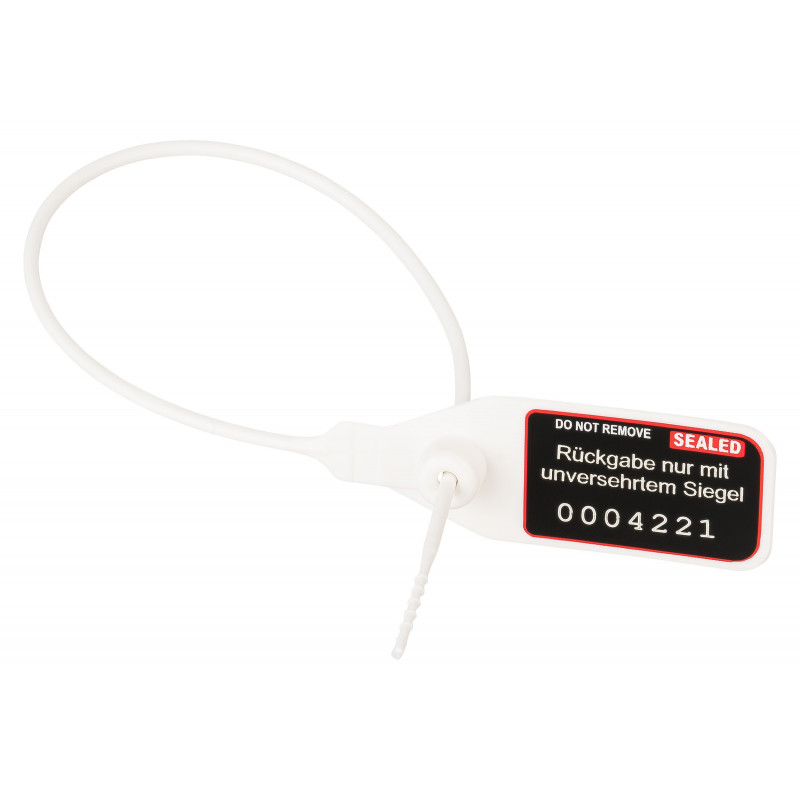  
Fashion seal, 1,000 pieces
Manipulation protection against returns of worn clothes, shoes, bags, etc.
Clothes / Accessories
Incoming goods inspection
Fashion seal for
protection
against
returns
of
worn
clothes
Customers order a dress, trousers or a chic jacket online, wear it for one evening and then send it back to the retailer as a return. Often, indications such as make-up stains or perfume odor are discovered that show that the clothes were worn. This phenomenon is known as wardrobing and causes considerable damage in the fashion industry every year.
With our Fashion seal we offer you an inexpensive and simple solution. The seal is attached directly to the garment, shoe or handbag. The unique serial number on each seal provides additional tamper protection, as the seal cannot be replaced by another. The security seal must be destroyed in order to be able to wear the clothes. The removal of the seal obliges the purchase, a return of the fashion item is no longer possible without further ado. Once the garment seal has been opened, it cannot be closed again.
By means of a special process, the seals are deburred and flamed. This means that all protruding edges and plastic residues are removed and the surface is smoothed. The Fashion seal does not damage any materials or fabrics. The unobtrusive white colour of the seal does not distract from the high-quality garment or fashion accessory, yet the seal is striking enough to achieve its deterrent effect.
Technical details:
Seal type: Pull-up seal
Classification: Indicative seal
Special features: Metal intsert / label
Material: Polypropylene PP

Deburred

and

flamed
Dimensions:
Total length: 285 mm
Working length: 200 mm
Diameter: 2.3 mm
Printing:
Text: Rückgabe nur mit unversehrtem Siegel
Incl. unique serial number
Content / Packaging unit:
1,000 pieces loose per box
Available variants:
Further variants are available on request.
Data sheet
Einsatzbereiche

Clothes / Accessories
Incoming goods inspection