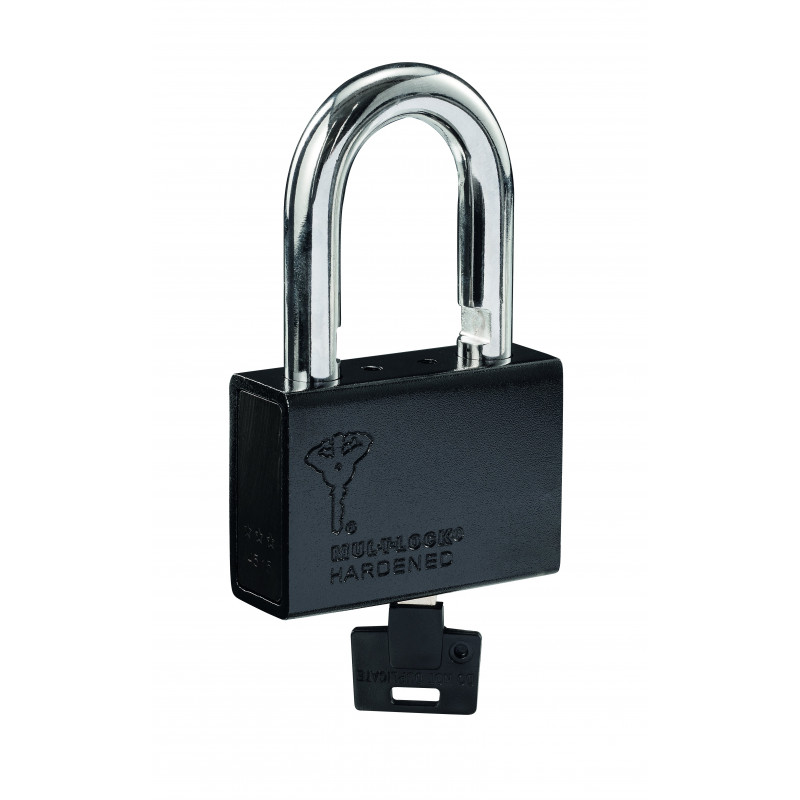  
High-security padlock MTL Ø 13 mm
Robust high-securtiy padlock
Certified according to DIN EN 12320 grade 4
Bracket completely removable
Drilling and ANTI-DRILL protected
Anti-theft device
Construction site
Container / Swap trailer
Doors
Warehouse
High-security padlock MTL Ø 13 mm
Certified according to EN 12320 Grade 4
The high-security padlock MTL Ø 13 mm helps to prevent theft and exchange of goods, prevents the interruption of the cold chain and prevents the transport of unregistered goods.

The robust padlock is made of hardened, black steel. A cover on the keyhole ensures that no dirt or other impurities can penetrate.

The Mul-T-Lock padlock is delivered with 3 keys and 1 key card (keyed diffenrent) or with 1 key and 1 key card (keyed alike) (standard: EN 12 320 grade 4) drill-proof, ANTI-Drill.
What does different keyed and keyed alike mean?
Keyed different (kd) = The key can only open or close one lock and is unique.
Keyed alike (ka) = With one key you can open and close several locks.
Technical details:
Hardened, black steel padlock
Dort cap on the keyhole
Classification: EN 12320 Grade 4

Anti-drilling

protection

,

ANTI-DRILL

Weight: approx. 1 kg
Dimensions:
Diameter: 13 mm
73 mm x 100 mm x 25 mm
Content / packaging unit:
1 x Mul-T-Lock padlock
3 x key (keyed different) or 1 x key (keyed alike)
1 x key card
Data sheet
Einsatzbereiche

Anti-theft device
Construction site
Container / Swap trailer
Doors
Warehouse