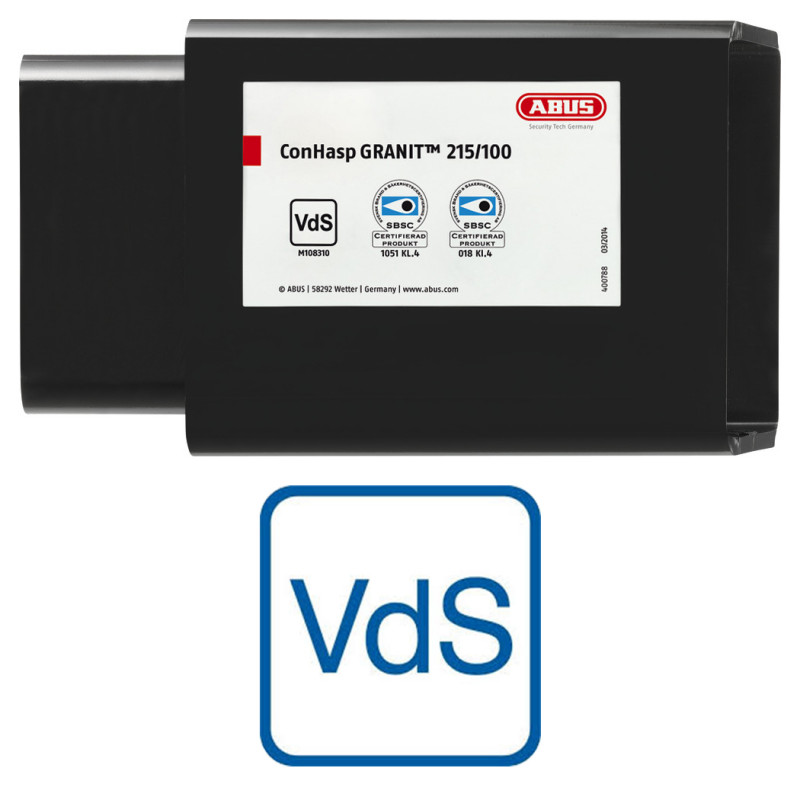  
ABUS ConHasp Granit 215/100 Containerlock
Certified according to DIN EN 12320 grade 5

VdS- certified with granite padlock 37RK/70HB100 or with 37/55HB100

Extremely resistant steel
All parts are corrosion protected
SBSC-recognition with granite padlock 37RK/70HB100 or with 37/55HB100
For the most common transport and storage containers
Can also be used on sliding doors, barn doors, wing doors etc.
Insurer recommendation: granite padlock
Anti-theft device
Construction site
Container / Swap trailer
Doors
Warehouse
Containerlock ABUS ConHasp Granit 215/100
The ConHasp 215/100 container lock fits all common transport and storage containers. In addition to its use as an armoured bolt lock for contruction containers, it can also be used to protect sliding doors, barn gates and warehouses. All parts are corrosion-protected.
The container lock contains the high security curtain lock ABUS Granit 37 and was processed with special welding processes for even more security.
Al you need for installation are standard tools: drill, metal drill, hole saw and screwdrivers. The supplied drilling template makes it easy to drill the holes in the right place.
The lock is available with keyed different or keyed alike locking. You can also choose the padlocks. The yellow ABUS padlock Granit 37/55HB100 or the black padlock Granit 37RK/70HB100 with ABUS Plus disc cylinder which is made of hardened special steel for better corrosion protection. If you need additional keys, you can contact us at any time.
What does "different or identical locking" mean?
Different lock = The key can only open or close a container lock and is manufactured once.
Identical lock = With one key you can open and close several container locks.
Technical details:
VdS recognition with 37RK/70HB100 (black - Ø 3 mm thicker)
Or VdS recognition with 37/55HB100 (yellow)

Security level 10

Extremely resistant steel

Mounting by tapping

Weight appr. 6.8 kg


Available for left- and right-closing doors

Protection against:
Content / Packaging unit:
1 x Container lock ABUS ConHasp Granit 215/100
1 x padlock 37/55HB100 or 1 x padlock 37RK/70HB100 (Ø 3 mm thicker)
2 x key (keyed different and keyed alike version)
1 x Key card
Data sheet
Einsatzbereiche

Anti-theft device
Construction site
Container / Swap trailer
Doors
Warehouse