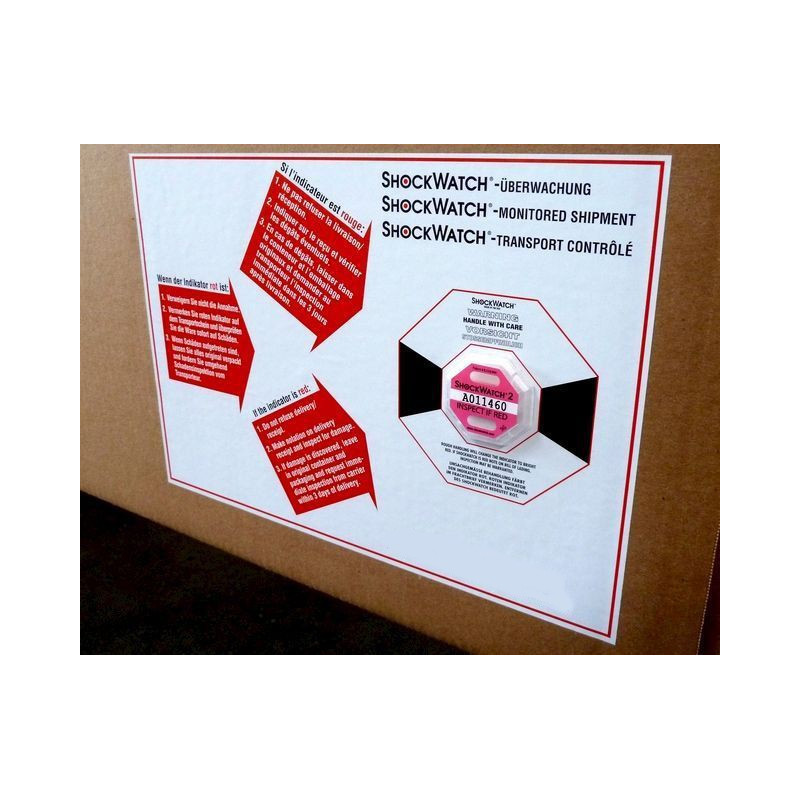  
Impact indicator ShockWatch 2, 100 pieces
Control of the entire transport

Indicates shock and impact


Simplifies the inspection of incoming goods

Includes bilingual warning stickers

Unique serial numbering on each indicator
Incoming goods inspection
Industry
Transport / Logistics
Warehouse
Description:
Shockwatch takes control during the entire transport


If a defined vibration exceeded, the color turns from white to red

The impact indicator saves time and money because internal and external transports are carried out carefully

Inbound shipments can be immediately inspected for damage

Unique serial number

Benefits of Shockwatch 2:
Is activated by attaching


Shockwatch 2 is self-adhesive

The indicator measures vibrations primarily in the vertical axis


The upper and lower windows shows whether the impact came from
Shipping only within Germany
Technical details:
Sensitivity: 5 g - 75 g

Accuracy: +/- 15%

Responsiveness: 1-axis (45 ° - 90 °)

Dimensions :

Miscellaneous:
Fixing: self-adhesive

Working temperature: -25 ° C to 80 ° C

Shelf life: 2 years at room temperature 20 ° C

Storage conditions: room temperature (20 ° C)

Incl.

Warning and delivery stickers

Content / packaging unit:
Available variants:
7 different sensitive Label
The shock indicators should not trigger too early or too late. Therefore it is important, first select the appropriate sensitivity. You will need to a total weight incl. Packaging and the size of the package in cubic meters. On the basis of these two values, you can now determine the required sensitivity with reference to the table below.
The indicators should be secured with the supplied DIN A4 warning label clearly visible vertically on the package. The Shockwatch 2 is thereby easily adhered in the marked area within the caution label. The small delivery stickers should be pasted as an additional indication for the receiver in the shipping documents.
We strongly recommend that you record the serial number and record.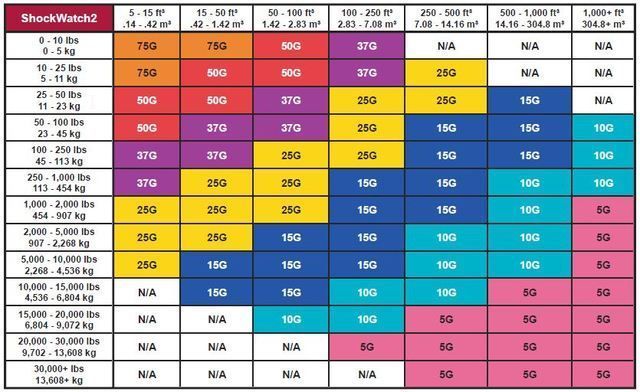 Data sheet
Unit pricing measure (Artikel)

100Stück

Unit pricing base measure (Grundpreis Basis)

1Stück

Einsatzbereiche

Incoming goods inspection
Industry
Transport / Logistics
Warehouse