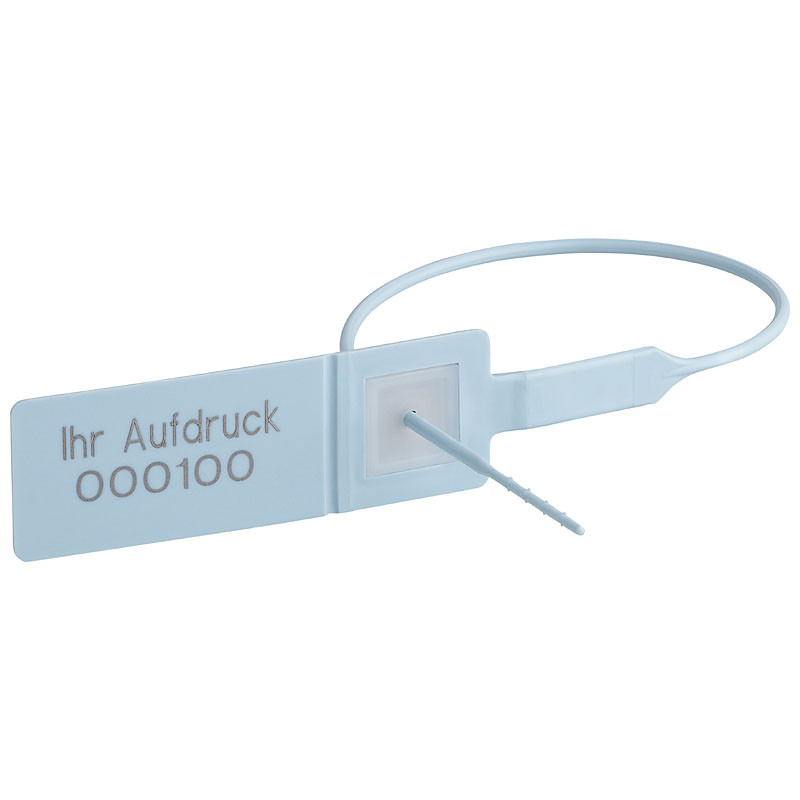  
Pull-up seal Sparrow Seal / Sparrow Seal Light, 1,000 pieces
Plastic seal for 

sealing trucks, transport boxes, containers, etc.

Available

in

different

lengths

,

colours

and

thicknesses

1 PU = 1,000 pcs
Container / Swap trailer
Despatch / Carrier
Transport / Logistics
Wild animals marking
Product description for pull-up seal Sparrow Seal/ Sparrow Seal Light
The versatile plastic seal 'Sparrow Seal / Sparrow Seal Light' is for the quick and easy sealing of trucks, containers, transport boxes, etc. suitable. The individual serial numbers on each seal serves for unique identification and protects against manipulation.
The locking device has a metal insert. When the securtiy seal is closed, the metal insert penetrates the sealing band and prevents it from being pulled out of the opening again. Thanks to the metal insert the seal is very stable and can withstand a tensile force of up to 15 kg (Sparrow Seal Light) or up to 30 kg (Sparrow Seal).
Personalization:
An individual imprint is possible from a minimum quantity of 1,000 pieces. The following individual imprints are possible: 
Individual text (up to 20 letters)
Individual serial numbering (up to 8 numbers)
Individual logo
Individual barcode
Technical details: 
Seal type: Pull-up seal
Classification: Indicative seal
Special feature: Metal insert / Laser print
Material: Polypropylene PP
Dimensions:
 
Sparrow Seal
Light 320
Sparrow Seal
Light 420
Sparrow
Seal 290

Sparrow
Seal 360
Sparrow
Seal 490
Total length

320 mm
420 mm
290 mm
360 mm
490 mm
Operating length

230 mm
330 mm
210 mm
280 mm
390 mm
Diameter
2.0 mm
2.0 mm
3.7 mm
3.7 mm
3.7 mm
Miscellaneous:
Incl.

unique serial numbering
Content / Packaging unit:



Available variants:
4 colours

5 lenghts

2

thicknesses
Further variants are available on request.
Data sheet
Unit pricing measure (Artikel)

1000Stück

Unit pricing base measure (Grundpreis Basis)

1Stück

Einsatzbereiche

Container / Swap trailer
Despatch / Carrier
Transport / Logistics
Wild animals marking