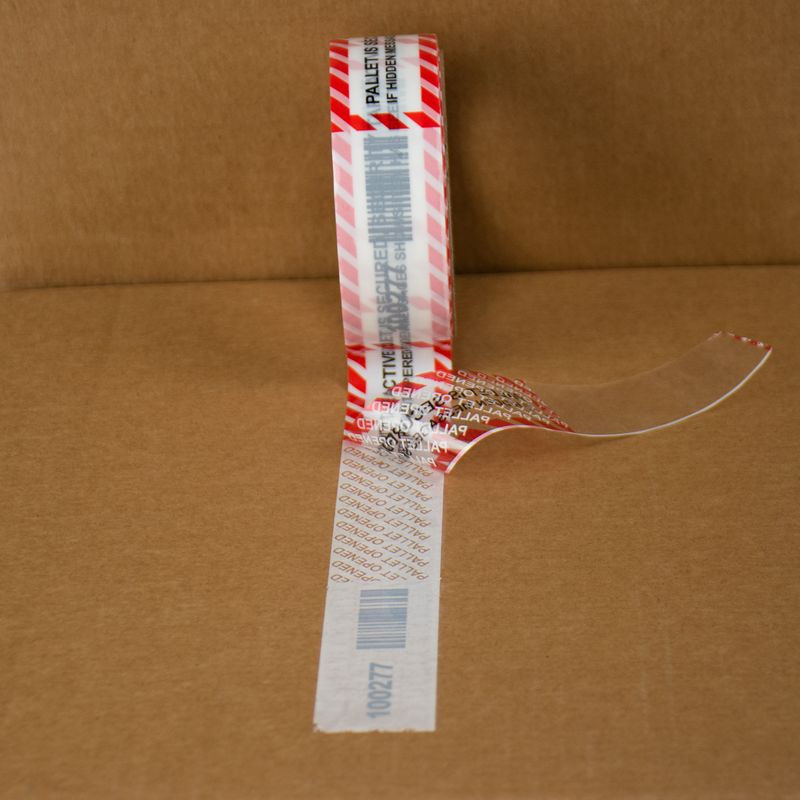  
Security Tape PalletGuard, 20 rolls
Adheres

to

carton

and

 pallets

verry narrow

with barcode

Usable

with

normal

packet

tape

dispenser
Despatch / Carrier
Packaging
Transport / Logistics
Warehouse
PalletGuard security tape - for security labeling on transportpallets, cardboard and boxes
The labeling of pallets and cardboard boxes for the safe and tamper-proof transport of goods is essential for many companies. Thanks to the particularly narrow PalletGuard security sealing tape, wooden and plastic pallets and the cardboard boxes connected to them can now be secured simultaniously. Once applied, the PalletGuard cannot be removed without leaving a clearly visible residue. When peeling off, only the top layer of the sealing tape is removed and the lettering "PALLET IS SECURED, SECURITY TAPE ACTIVE" remains on the surface. This residue can only be removed with a great deal of time and indicates that the seal has been broken.
Another special feature of the PalletGuard sealing tape is its narrow width compared to other security tapes. This makes it easier to apply the tape, which is a valuable advantage, especially in hectic goods traffic and on packing tables. The special structure also allows this sealing tape to be used on wood, a surface that is otherwise difficult for sealing tapes.
The PalletGuard security sealing tape is provided with a barcode and consecutive numbering at the factory.
Technical details:
Pallet Guard security tape
Tamper-resistant tape
Color: white / red
Width: 30mm
Barrel length: 15 m
Print : PALLET IS SECURED, SECURITY TAPE ACTIVE
Barcode 128
Consecutive numbering
Without perforation
Suitable for boxes and pallets
Resistant to UV rays
Area of ​​application: -40°C to +40°C
Can be used with a standard packet tape dispenser
Dimensions:
Width: 50mm
Barrel length: 15 meters
Other:
Imprint & backlog text: PALLET IS SECURED, SECURITY TAPE ACTIVE
Content / packaging unit:
20 rolls of PalletGuard security tape
Data sheet
Unit pricing measure (Artikel)

Unit pricing base measure (Grundpreis Basis)

1Stück

Einsatzbereiche

Despatch / Carrier
Packaging
Transport / Logistics
Warehouse