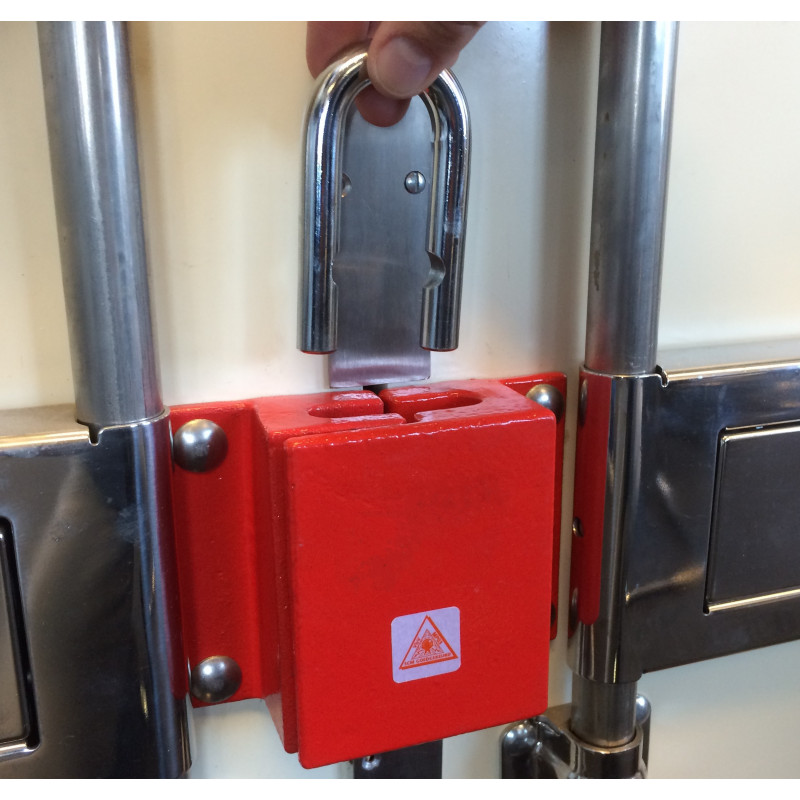  
Container lock DragonLock KGL-300
Fixed trailer and container lock

SCM certification
TAPA TSR Cert. suitable
Incl. padlock
Simple screwing
Anti-theft device
Construction site
Container / Swap trailer
Overseas container
Warehouse
Container lock DragonLock KGL-300 high-performance trailer lock
The DragonLock KGL-300 container and trailer lock is ideal for securing your transport and construction container or your trailer against burglary and illegal entry. The solid steel lock is intended for permanent installation and is supplied with padlock and mounting kit. The DragonLock KGL-300 container lock is SCM approved in the heaviest category.
The DragonLock KGL-300 Heavy Duty is cast from sturdy steel. The powder coating serves as corrosion protection and thus guarantees years of use. The container lock consists of two halves that fall into each other when closed. When closing, the two lock parts form a housing into which the handle of the supplied padlock can be inserted from above and the latch from below.

The DragonLock KGL-300 container lock is mounted with the included M10 stainless steel bolts. Drill 10 mm holes in the container doors according to the mounting holes of the two lock halves. Fasten the lock parts with the screws and tighten the nuts on the back. With a length of 8 cm, the solid bolts are also long enough for thicker doors.
Container locking to secure your goods
Suitable for all common containers, freight boxes and trailers
The container door lock is screwed to the door and protects against unauthorised opening
The lock is suitable for TAPA and TSR certification
Lock body made of solid steel, mounting set and padlock made of stainless steel
Powder inspection of the cap body protects against corrosion
Mounting kit and padlock included
Padlock comes with two keys and code card
Technical Details:
Version for screwing
Suitable for TAPA/TSR certification
Certified according to SCM MS012204
Weight: approx. 4 kg
Dimensions:
Content / Packaging unit:
1 x Container lock DragonLock KGL-300
1 x padlock incl. 2 keys
1 x Key card
Data sheet
Einsatzbereiche

Anti-theft device
Construction site
Container / Swap trailer
Overseas container
Warehouse