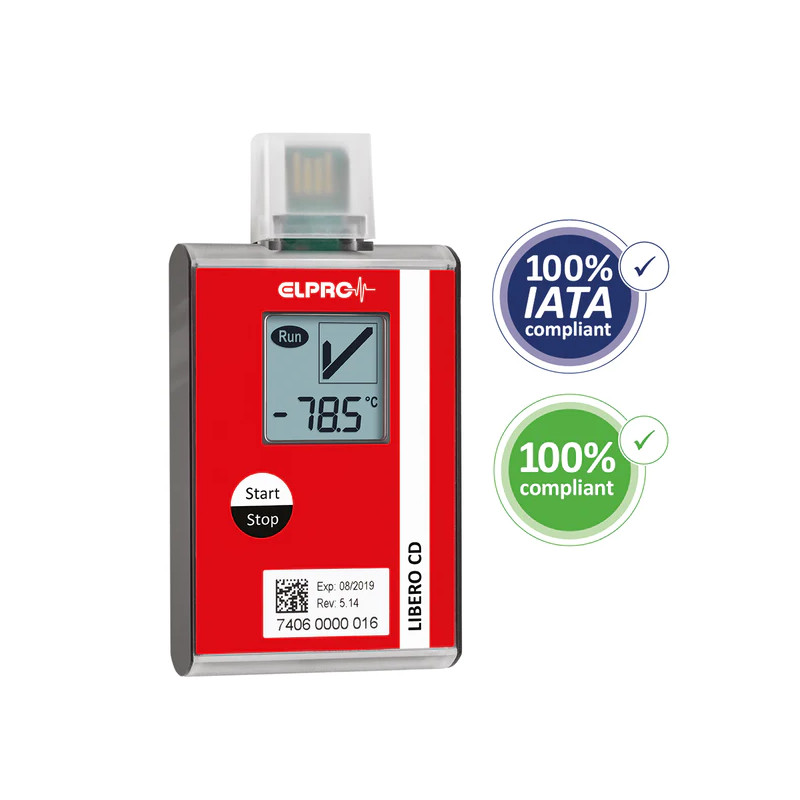  
LIBERO CD temperature data logger for dry ice
Especially suitable for dry ice shipping

Large measuring range up to -95°C

Air cargo certification
Cold chain
Dry ice
Food / HACCP
Gastronomy / Catering
Pharmaceutics / Medicine
Pharmacies
The LIBERO CD single-use data logger - THE solution for all dry ice transports
The ELPRO LIBERO CD is a temperature data logger specifically designed for dry ice shipments and can reliably display temperatures as low as -95°C. The ELPRO LIBERO is a disposable data logger. Temperature data loggers are used for continuous temperature monitoring in supply chains. Especially when it comes to monitoring cold chains, temperature data loggers are a cost-effective tool for documenting compliance with temperature limits seamlessly and reliably. All measurement values are stored on the logger with their corresponding timestamps and can be later retrieved via the USB interface using a PC. Once the data logger is connected to the PC, a report in PDF format is generated, eliminating the need for separate software to access the report.
The advantages of the ELPRO LIBERO CD compared to conventional disposable loggers
Although dry ice typically has a temperature of -78.5°C, it has been observed that vibrations can cause lower temperatures, sometimes dropping below -80°C. Conventional temperature data loggers for dry ice transport are often designed for temperatures only up to -80°C, while the ELPRO LIBERO CD reliably records temperatures as low as -95°C. With a runtime of 168 days, the ELPRO logger records up to 24,200 measurement values in user-defined time intervals.
The time intervals and alarm points of the data logger can be customized using ELPRO software. This allows customers to tailor the data logger perfectly to their specific requirements. The ELPRO LIBERO has multiple certifications and is even suitable for air transport.
Key technical facts of the ELPRO LIBERO:
Measurement range: -95°C to +50°C
8 alarm zones and time alarms
Connection: USB
Generates PDF report with alarm statistics and temperature curve
Accuracy: ±0.1°C
Storage capacity: 24,200 measurement values (168 days runtime at 10-minute intervals)
Weight: 50 g
Certifications: CE, EN12830, EMC, RTCA DO-160, RoHS, Safe Transport of Chemical Goods
Certificate: ILAC/NIST/ISO 17025 traceable production calibration certificate
The ELPRO LIBERO temperature disposable logger is a highly reliable and versatile data logger. With 8 self-configurable alarm points, it can be flexibly used and perfectly tailored to all customer-specific requirements. Being air freight certified, the data logger is even suitable for international and particularly demanding transportation projects.
Dimensions:
Contents / Packaging unit:
1 x LIBERO CD Multi-Level PDF Logger with internal sensor for single-use directly in dry ice
Data sheet
Einsatzbereiche

Cold chain
Dry ice
Food / HACCP
Gastronomy / Catering
Pharmaceutics / Medicine
Pharmacies