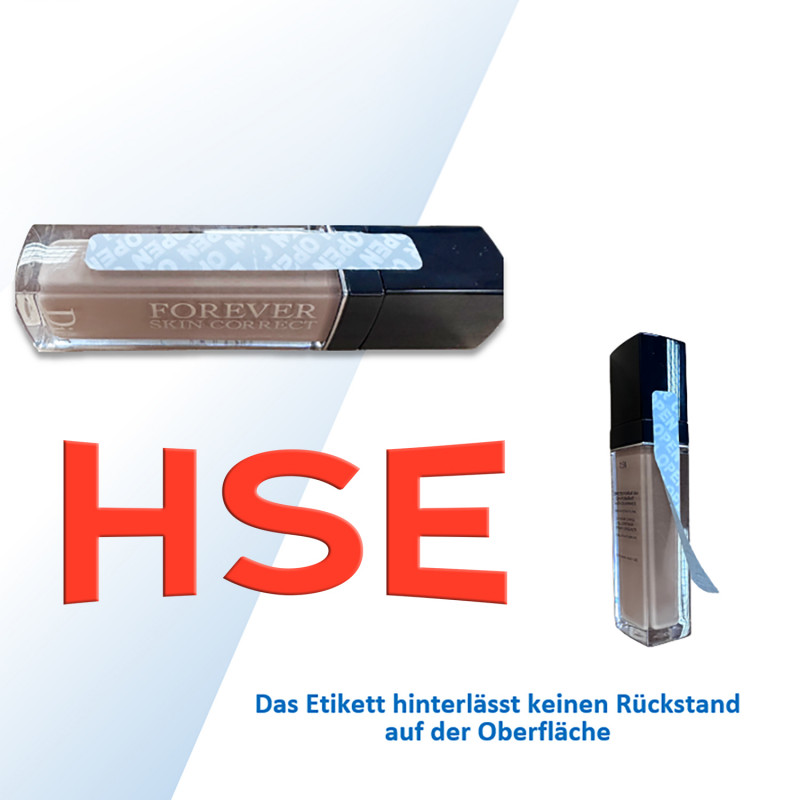  
HSE OPEN VOID security labels without residue grey 70 x 10 mm, 5,000 pcs.
Cosmestics
Maintenance / Machine construction
Warranty seal
HSE OPEN VOID security labels with no residue for
tamper
protection
Kronsguard seal labels are produced on a gray foil with OPEN-VOID effect for sealing of cosmetic products.

Manipulation attempts or unauthorized access attempts are immediately apparent. When peeling off, the gray base color does not stick to the substrate and the word "OPEN" can be read on the label. Void security labels are often used as closure seals, guarantee seals and as protection against theft. Attempting to detach the VOID security labels will destroy the VOID label and leave an OPEN residue text on the label. When peeling off the label, there is no residue, so the product is not being damaged. The void labels cannot be stuck on again and tampering is immediately apparent.
Whether as a guarantee seal, to secure electronic devices, document seals or seals for industry or incoming goods inspection, you can find the appropriate security label in the Kronsguard online shop.

We would be happy to make you an individual offer for the size and quantity you require, including with your individual printing. Do you need samples for test purposes? Just send us an email to sell@kronsguard.de.

Special

features

of

residue-free

VOID

seal

labels

:
VOID

security

labels

protect

your

inventory

and

valuable

goods

Ideal for cosmetic products

Suitable

as

type

plates

,

certificates

of

originality

,

product

seals

,

seals

,

warranty

and

maintenance

seals

,

letter

and

parcel

seals

etc

.

The

safety

seals

adhere

to

almost

all

surfaces

If

the

seal

is

removed

,

it

does

not

leave

any

residue

.

The

seal

may

not

be

reattached

.
Technical details:
Dimensions:
Content / Packaging unit:
Available variants:
Data sheet
Einsatzbereiche

Cosmestics
Maintenance / Machine construction
Warranty seal