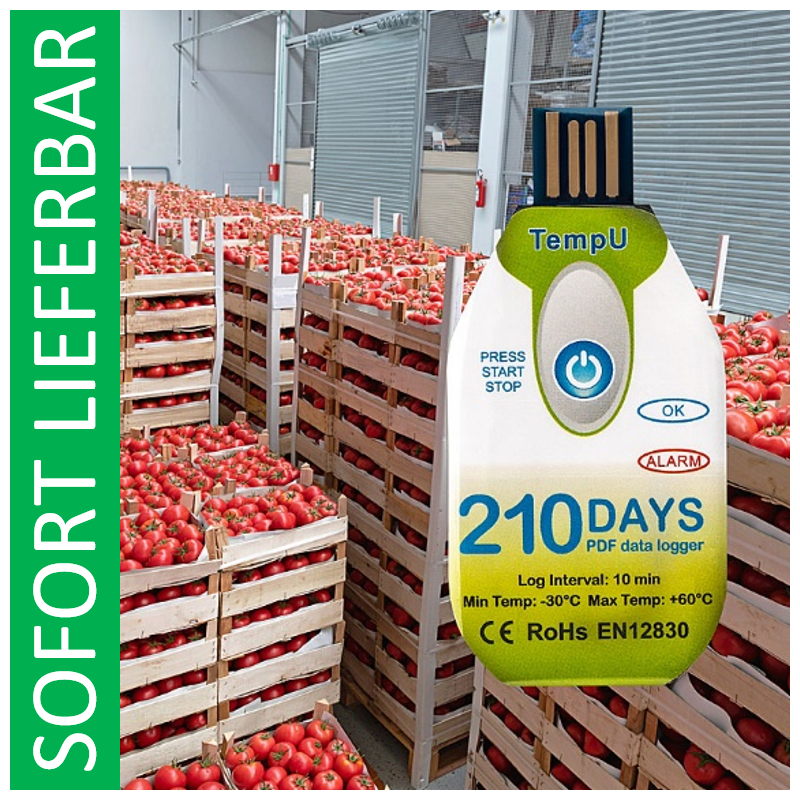  
TempU S3 Single-use temperature data logger, 20 pieces
Quick

and

easy

temperature

control

during

transport

Cost-effective

cold

chain

optimization

Automatically

generated

data

report
Air freight / Cargo
Cold chain
Food / HACCP
Laboratories / Research
Pharmaceutics / Medicine
Pharmacies
Description
Single-use temperature data logger TempU S3 - Automatic USB data logger
for
temperature
control
and
recording
The temperature data logger TempU S3 enables the reliable transport monitoring for temperatur-sensitive products, stationary cold stores and during transport. The innovative real-time data logger is preconfigured with a run time of up to 210 days (preset recording interval: 10 minutes), but can be set in advance according to your specifications. Individual settings and alarm values can be ordered on request. By using the temperatur data logger, you can see at a glance whether the product has been exposed to critical temperatures during transport or storage. The single-use data logger is very small and light and can be enclosed with almost any packaging. The term single-use data logger means that once the temperature logger TempU S3 is stopped, you can't restart the logger. The real-time data logger can only be used for the one-way transport of goods.
The TempU S3 data logger does not have to be marked as dangerous goods according to IATA specifications and is therefore ideally suited for monitoring temperature sensitive air cargo shipments. In addition, the logger complies with the requirements of EN12 830 and may be used for the control of frozen foods.
Oneway data logger TempU S3 for temperature monitoring:
Single-use temperature data logger with integrated USB interface


Manipulation

protection

by

u

nique

serial

number

With

removable

b

arcode

sticker

incl

.

numbering

to

avoid

transmission

errors

Recording time of up to 210 days

Wide measuring range and high accuracy

Automatic PDF report -

no

programming or software!

Extensive data storage of 32.000 measuring points

Reliable temperature and cold chain monitoring

Compact dimensions allow the addition to almost any goods


Food-safe protective cover with self-adhesive dot
Technical details:
Single-use temperature data logger TempU S3


Measuring range: -30 °C to + 60 °C

Accuracy: ±0.5 °C (

-20 °C to +40 °C

), ±1.0 °C (other range)


Resolution: 0,1 °C

Data storage: 32.000 measuring points

Recording time: up to 210 days

Interval: 10 minutes

Battery: 2 years / CR2032 coin cell

Weight: 10 g

Protection class: IP67


System Requirements: PDF reader

No programming or software is necessary

Certification: EN12830, CE, RoHS
Please note: The preconfiguration has a recording time of up to 210 days with a 10-minute measuring interval. No alarm or start delay is set.
Individual configuration: Individual alarm values and settings in the interval from -30°C to +60°C can be ordered on request. The delivery time is 4 weeks. Feel free to contact us.
Dimensions:
  69 mm x 33 mm x 5 mm (L x W x H)
Content / Packaging unit:
20 x single-use temperature data logger TempU S3

20 x

shipping bag

1 x calibration certificate
1 x user manual (in German and English)
Data sheet
Unit pricing base measure (Grundpreis Basis)

1Stück

Packaging unit:

20 pieces

Unit pricing measure (Artikel)

20Stück

Einsatzbereiche

Air freight / Cargo
Cold chain
Food / HACCP
Laboratories / Research
Pharmaceutics / Medicine
Pharmacies