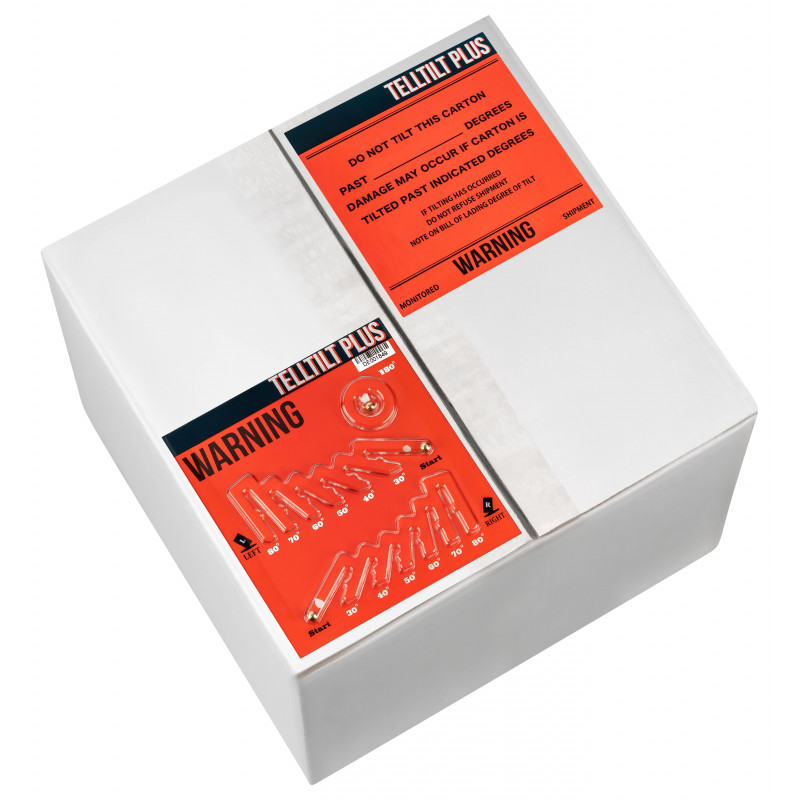  
Tilt indicator TELL-TILT Plus, 50 pieces
Safe monitoring of tilt-sensitive goods during transport
Indicates inclinations from 30°
Manipulation protection by unique serial numbers and barcode
Incoming goods inspection
Industry
Transport / Logistics
Warehouse
Description
Product description for telt indicator'TELL-TILT Plus'
The TELL-TILT Plus tilt indicator takes over the control of your goods during the entire transport route. An inclination can be detected as early as 30°. Separate display fields indicate whether the goods were exposed to left or right inclinations or were transported upside down.
The indicator TELL-TILT Plus saves time and money, as internal and external transport is carried out more carefully and incoming shipments can be checked immediately for damage. The unique serial numbers make the indicator tamper-proof.
Application:

After removing the safety foil, the indicator can be sticked to the package with the self-adhesive back. The securing of the three brass balls, which ensure a better rolling, is removed by detaching the foil and activates the indicator. A release is displayed in the tilt angle range from 30° to 80° in 10° increments and at 180°. A separate starting field as well as several recessings for backflow protection ensure higher accuracy.
Technical details:
Indicator type: Tilt indicator with degree scale

Tilt

angle

:

30°

to

80°

in

10°

increments

and

at

180°

Material

:

Composite

material
Dimensions:
Miscellaneous:
Fixing: self-adhesive

Storage conditions: at

15°C to 23°C

Field

of

application

: -

40

°C

/

+6

0

°C
Content / Packaging unit:
50 x tilt indicator TELL-TILT Plus
50 x warning sticker for TELL-TILT Plus
Data sheet
Unit pricing base measure (Grundpreis Basis)

1Stück

Unit pricing measure (Artikel)

50Stück

Einsatzbereiche

Incoming goods inspection
Industry
Transport / Logistics
Warehouse